Asphalt & Concrete
ASPHALT AND CONCRETE MAINTENANCE AND REPAIR FOR LONG ISLAND ROADWAYS, SIDEWALKS, DRIVEWAYS, AND PARKING LOTS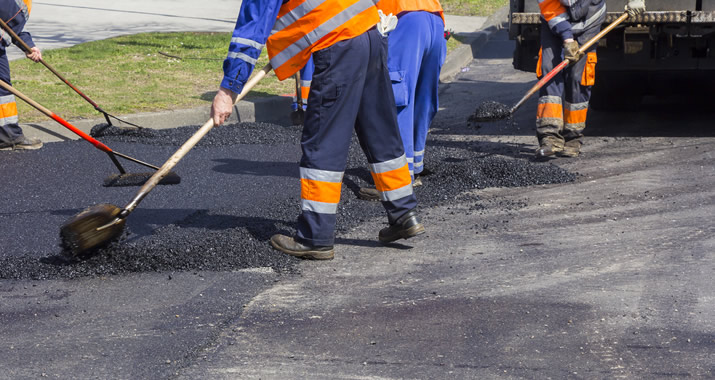 Long Island Asphalt Patching, Repairing, & Resurfacing
With the extremely high costs of having a parking lot re-paved,  asphalt maintenance is crucial to stop a damaged area from spreading. We offer asphalt milling, cut and patch repair, seal coating, asphalt crack-sealing, laying of new speed bumps and concrete repair.
In severe cases of asphalt failure, the most cost-effective solution is to resurface the asphalt pavement. If you're noticing grade depressions (puddles on the pavement) and/or large sections of interconnecting cracks, its a good time to have 110 Maintenance resurface your pavement.
Long Island Asphalt Removal & Replacement Services
We all know that as asphalt ages, its appearance changes over time. Small cracks begin to spread and deepen within the asphalt, and without continued maintenance, water starts to enter these cracks and unsightly and dangerous potholes will begin to form. Once damage like this occurs, patching, repairing or resurfacing will not fix the problem. When this happens, its time to have 110 Maintenance remove and replace the deteriorated area.
The cost for asphalt removal and replacement will depend on many factors including the amount of grading and substrate work required, as well as geographic and other site-specific factors of your Long Island property.
Concrete Repair & Installation
Concrete sidewalks are usually chosen due to their low maintenance. While asphalt paving requires upkeep and maintenance, concrete, once installed requires very little care. Freezing and thawing during Long Island's harsh winters, can cause concrete to heave and sometimes crack. 110 Maintenance can handle any Long Island concrete paving job your  business needs to get done whether it's a small repair or a complete installation.
Interested in getting an estimate for your asphalt or concrete paving or repair job? Just submit an online estimate request form, or give us a call at (631) 261-8326 today!